Return to Headlines
Langston Steps Down After More Than 15 Years on MRH School Board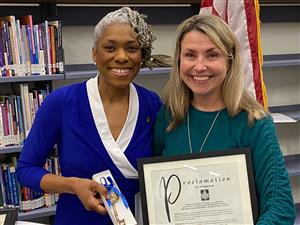 The MRH Board of Education celebrated one of their own on Thursday, on the occasion of Secretary Maria Langston's final meeting after more than 15 years of service on the Board.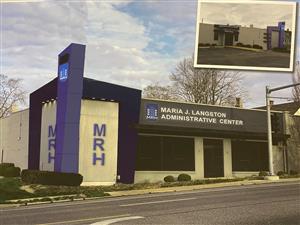 The Board, in a move kept secret from Mrs. Langston until the meeting, passed a resolution to name the District Central Office complex the Maria J. Langston Administrative Center.
In the resolution, Mrs. Langston was praised for being "an exceptional leader and contributing significantly to the growth and success of the District. Mrs. Langston has been a tireless advocate for the students and staff, promoting high academic standards, supporting professional development opportunities and fostering a positive and inclusive school culture."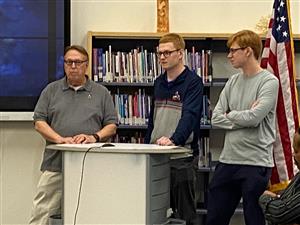 On hand for the announcement were Richmond Heights Mayor Jim Thomson and Maplewood Mayor and former MRH Board member Nikylan Knapper, both of whom presented proclamations of gratitude for Mrs. Langston's service to their communities. Mayor Knapper bestowed a ceremonial Key to the City. Also attending were Mrs. Langston's spouse, Mark, and her two sons, Michael and Matthew, both lifelong students in MRH schools.
Mrs. Langston's departure comes during Missouri School Board Appreciation Month as designated by the Missouri School Boards Association.
Maria Langston began her first term on the Board of Education in April 2008 with years of experience working on behalf of the MRH School District. She served as president of the Early Childhood Center PTO for three years and has served as a parent representative on the Teaching and Learning Council, the Academic Calendar Committee, and in the Comprehensive School Improvement Program planning process. Outside of the Board, she was an ever-present member of various citizen committees charged with achieving passage of tax and bond issues. Together, the Langston family was named the District's "Family of the Year" in 2007. Maria is employed by St. Louis Community Credit Union.
Mrs. Langston's retirement from Board service and the recent departure of Board member Aany Tazmin-Ewing resulted in two open seats on the Board. Two candidates -- Joshua Miller and Christy Martinez -- were the only individuals to file for candidacy and will be sworn in next month.
The District will work with Mrs. Langston and her family to develop a plaque or other commemorative display to be installed in the Administrative Center.