Return to Headlines
ECC Earns Program of the Year Award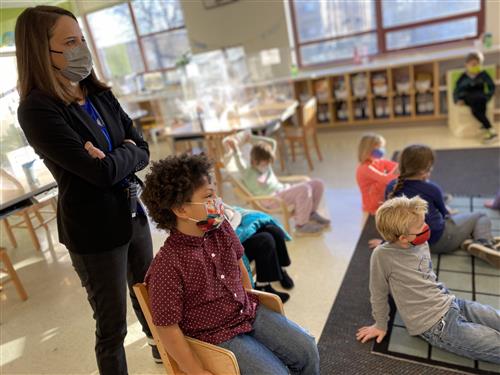 The MRH Early Childhood Center is a 2022 recipient of the Missouri School Boards Association "Program of the Year" in the early childhood education category.
The honor was announced by the MSBA's "Futurebuilders Foundation," whose goal is to celebrate the successes of public schools and to recognize the achievements of both students and school leaders. The Early Childhood Education Program of the Year is designed to reward districts that have implemented programs to advance quality early educational opportunities for children.
In the awards application, ECC leaders stated "MRH ECC provides interesting and meaningful learning experiences using a School as Studio approach. We design learning experiences by observing children and shaping experiences based on student interests and their needs. Children are encouraged to engage in project work by creating hypotheses, theories and solutions. Ideas from both teachers and students are blended together to create a path of study. We believe that all children are capable and have unique potential and we honor their rights by providing items or questions for students to explore, think about, and become inspired by. We encourage children to engage in "work" through a variety of learning and play experiences such as painting, exploration, dance, storytelling, writing, drawing and sculpting. Students and families are greeted each day to ensure connection. In morning meetings, students discuss important information, dialogue about projects, and opportunities are provided for students to engage in the social process of learning.
All ECC teachers engage in continuous job-embedded professional development. A pedagogista (instructional coordinator) works collaboratively with teachers in project work development, intentional design, and visible documentation. This role is rotated among individual teachers who complete advanced study. Teachers participate in training where they are grounded in the School as Studio approach, curriculum design, differentiated instruction, cooperative learning, and culturally responsive pedagogy. Teachers participate in national and regional conferences hosted by the North American Reggio Alliance. The collaborative approach to professional development allows teachers to share ideas and gain new insights."
ECC leaders will officially be recognized by MSBA at its convention in Kansas City in November.